Summary rating from
2
user's marks. You can set own marks for this article - just click on stars above and press "Accept".
Accept
Egnyte Business Cloud Storage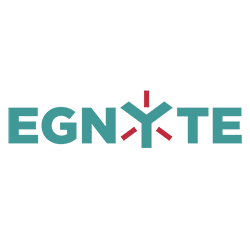 "Overall, Egnyte offers a reliable service with plenty of features for the average business."
Egnyte offers a business centered cloud storage product. With an extensive file organization system, hybrid file server, and automatic file versioning, your business will find great use in their product. Security is good but their pricing isn't the most value friendly. However, businesses of all size are certain to find a package that works for their needs.
Egnyte Business Cloud Storage offers use through their website, iPhone, iPad, Android, and Windows Mobile applications. Desktop file access is offered through mapped drives. Files can be uploaded or added to your cloud through an easy drag and drop method. No backup services are offered and scheduling of sync tasks is not supported.
One of the most impressive features of Egnyte is their sub-folder and sync permissions. You are able to manage file sync and permission controls down to the sub-folder level which means that only files relevant to the chosen sub-folders will be downloaded and synchronized. You can even choose to sync locally or via the cloud. For businesses with complex folder structures, Egnyte's permission settings are truly awesome and offer a great deal of control.
Egnyte offers what they call "HybridCloud". Basically, it is comprised of two components: Egnyte Cloud File Server and then Egnyte Local Cloud. Local Cloud is your private cloud storage where local copies of business files on your computer, network-attached storage, or virtual machine are stored. Files stored in Local Cloud are automatically synchronized with the Cloud File Server. Now most cloud providers offer some version of this but where Egnyte differs is that you are able to still access these files even without an Internet connection as long as they have fully synced while a connection was present. You can open or edit files as you wish, then, when Internet access is restored, all changes will be synced back with the cloud.
Egnyte's Hybrid Cloud provides features for collaboration and file sharing as well. You are able to set up shared permission based folders easily. Their user management features make it handy to work around projects or departmental needs. One can also fine tine how certain individuals, both employees and customers, can access or share their files based on permissions. Branding options are available as a premium feature with some packages allowing you to add logos and change colors. Another premium feature is role-based administration which allows you to delegate certain administrative tasks to specific employees without giving them complete rights over the whole cloud. Online editing is supported for common Microsoft Office file types and a few Adobe types.
Security at Egnyte is fairly good. Perhaps the main pitfall is that files are not encrypted at the local, machine level like we see with a great deal of other providers. However, Egnyte makes sure to encrypt files during transfer and while at rest on the cloud by using AES 256-bit encryption. Antivirus programs are in place consistently scanning your files as well. As far as the servers go, 24-hour guards, biometric access, and video surveillance are in place. Another important security feature to note is that servers do not have USB ports or any optical drives so data cannot be copied or removed easily.
Three packages are offered to Egnyte customers: Office, Business, and Enterprise. All pricing is reflected on a per month basis, however, payment must be made annually. The Office package is for 5-24 employees, 1TB of storage, a max file size of 2.5GB, and costs $8 per user per month. With the Office plan, you will not receive branding options, Outlook integration, and some administration options are absent. To receive all available features you will want the Business package. That offers 25-100 employees, 2TB of space, a max file size of 5GB and a price of $15 per employee per month. The Enterprise level with unlimited space adds on enhanced support, audit reports, unlimited employees, and more. One must speak directly with a representative to receive pricing for this plan.
Overall, Egnyte offers a reliable service with plenty of features for the average business. While pricing is not the greatest value, the product is still solid and feature packed. Security is on point and support is fairly quick to answer questions. While we can't say that they are the best option available, we can say that they are a for sure a contender and worthy of inclusion on our list of iReviews 2014 best business cloud storage services.
Related YouTube videos: