Summary rating from user's marks. You can set own marks for this article - just click on stars above and press "Accept".
Accept
Box Cloud Service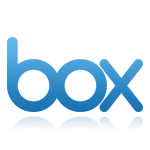 "To sum up this Box cloud storage review, we were impressed with Box on a business level."
Box Cloud Service have been around for a while but don't receive a great deal of press. This could be because they primarily target businesses rather than the personal users for which most other companies build their products. If being able to collaborate, work and monitor employees in the cloud with amazing security is a main goal of yours, Box could be just what you need. This is not so true for more basic or personal users who can get much better features and value elsewhere. While primarily offering online storage and a means to work with your data in the cloud, Box does offer sync abilities via their applications, which makes them an awesome solution for businesses that do not need complete backup services.
The majority of features and configurations for Box are primarily web based. They do offer both Windows and Mac applications to sync your data but most features need to be utilized and set up on the web interface. They also offer mobile apps for Android, iPad, iPhone, Blackberry and Windows Phone to make sure everyone with a smart phone can be connected on the go. The software seems to be easy to use and has a very clean design. We did find it to glitch on Android, however, but it did seem to run fluidly on our iPhone. We were able to access data we had uploaded via both their Windows app and their web page relatively quickly, but did notice a lag of about 4 minutes.
Uploading through Box's web page is easy with a drag and drop feature that is by no means new for the cloud world, but still gets the job done well. Sharing is easy with Box's one-click and send option. You also have the ability to set permissions for recipients to edit, delete or even just view the files. The web interface allows you to make new documents in Microsoft Office, Google Docs or other web-based formats, which you can also edit in Box later. This does require a free plugin that we installed with no extra worries. For personal users, this is where the features stop. For businesses, however, there is more, such as the ability to assign tasks within the interface and even leave comments on someone's work. Both of these features could be very useful to a busy office. You can also receive notifications of file access or changes, as well as being able to link other apps, so that you can easily save documents to Box while working elsewhere. Versioning is available, and the number of file versions that can be saved varies by package type.
Plan prices and options seem to be limited, and they do not offer any custom plans. Free users are given a generous 10 GB of storage space but a miniscule 250 MB file size limit. For most users, this might not be a problem unless you want to store videos or other large files. If this is the case, you will need the only other plan option available for personal users, which goes for $10 per month and grants 100 GB of storage, as well as a 5 GB file size cap. As mentioned above, features are still limited, since this is a personal plan. You will have access to their sync software and sharing, but will not have file versioning, access permissions or any statistics that even a basic user might find useful. This is not a great value for personal users who could choose another cloud company and receive far more features and access for the price. Box's business plans for a company who has the need for all of their features, however, are truly great. Their base package in this group starts at $5 per user per month and opens up a lot more of Box's business features. Unlimited storage starts at a base price of $15 per month per user, with a 3 user minimum required. This is their most popular package and it includes most of their available features. Their Enterprise package unlocks all features, including custom branding, administrator role customization, detailed audit logs and more. If your company doesn't need all of these extra features for the hefty price, there are more affordable business-based packages available through other cloud companies that will work just fine.
Security for Box is superb. They boast several large business clients, such as Nationwide Insurance and Pandora Music, and they have the security in place to keep businesses at that level happy. They work with a large group of organizations to ensure compliance across many boards, including HIPAA, HITECH and various international groups, and are a member of the Cloud Security Alliance. While this may not mean much for the personal user, it could be a major factor for some bigger businesses. Box offers an impressive layered encryption. During transfer, high-grade SSL/TLS is used while, at rest, files still get the treatment with 256-bit AES. Encryption keys are securely stored in different locations and regularly rotated for more superior security. Their data centers are monitored 24/7 by armed guards and have closed circuit security cameras in place. They also use multiple data centers with various providers to ensure redundancy. More common sense security, such as uninterruptible power supplies and fire/flood detection devices, are also used at all of their sites. Security that comes straight from Box and passed on to a business is found in the ability to customize password requirements for your users and even set automatic expiration dates for sensitive files.
To sum up this Box cloud storage review, we were impressed with Box on a business level. We would not recommend them for personal users simply due to the lack of features and space for the cost. Businesses will find peace of mind in their state of the art security and revel in the fantastic collaboration features that are available. While they are not a true "backup" solution, the ability to sync between computers and mobile devices should be enough for most clients who will find use in their overall product in the office. While their features are impressive, some businesses may find themselves not needing all of this and would be better suited with a lower cost cloud provider.
Related YouTube videos: