Summary rating from
2
user's marks. You can set own marks for this article - just click on stars above and press "Accept".
Accept
ADrive Online Storage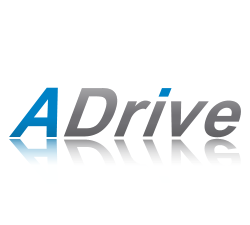 "Free plan with 50GB of space is awesome."
If you are looking for online storage that is light on features but offers a good amount of free space, ADrive Online Storage may be a contender. With online editing and document change archiving, file access is easily achieved. Limited support tech and tedium during login and file upload have driven some customers to other means of online storage, however.
File upload and download is easy, with drag and drop functionality. Although the upload speed is reported by many ADrive customers as slow, most agree that other features make up for it. For instance, entire folders and directories can be uploaded at once, conveniently removing the need to upload files individually. ADrive has changed its upload limit from 2GB to 16GB, giving its customers more variety when it comes to file types and sizes. File security features are limited, but file owners can choose to make a file public or private. Also, owners can create a weblink to use in sharing files with others.
Stored files can be viewed as a preview, and with the Zoho Editor tool, users can manage their documents without the trouble of downloading and uploading, and can still access them from anywhere. This is probably the feature of ADrive that stands out the most. Another nice feature is that the system archives a pre-edit copy of your work for seven days, in case you change your mind about the changes you have made. ADrive's Desktop tool is basic but functional, and only comes with paid versions of the service. It allows for drag and drop file upload and file versioning. The tool works with Mac, Windows and Linux.
Paid versions of the service come with other notable features. Free versions come with 50GB of space, the ability to share files, and use of the Zoho editor. For use of enhanced features, like SSL encryption, file versioning, file search function, 24/7 customer support, and the ADrive Client, you'd have to upgrade to the Signature plan, and still keep your 50GB per month. Premium users get the above listed features and 100GB of space. If you have more to store, ADrive offers up to 10TB of extra storage, but for a premium. Of course, free versions are ad-supported, but the ads go away with paid subscriptions.
Overall, the ADrive service is good, but with few features for users and with not much going for its free plans, it's understood why some users feel duped. Security is pretty much non-existent with the free plan, and features that should be present for any customer, like support, are limited. However, combing through message board posts reveals that most customers are not satisfied with the service's customer support. The support comes by way of a ticket system, which is increasingly common. However, contact is only by email, which is by definition impersonal, not to mention sometimes extremely inadequate and time consuming when trying to communicate problems or solutions.
ADrive's prices are competitive on the lower end, but don't allow for some of the better features that other providers have to offer. Giving a free plan with 50GB of space is awesome, but if more space is needed, rest assured that you are going to pay for it. Given that they do have some cool features and are geared toward making online storage easier and more convenient, we have included ADrive on our list of iReviews 2014 best online storage services.
Related YouTube videos: